CONTROL YOUR APOGEE WINE CELLAR FROM THE VINOTAG APP
Control your wine cellar remotely.
Thanks to its Wi-Fi connectivity, you can easily monitor the condition of your wines and adjust your cellar settings (temperature, lighting, alarms) with great precision from your smartphone or tablet, no matter where you are.
CONNECTED CELLARS WITH REMOTE CONTROL
I visualize the contents of my cellar and I control the temperature remotely
You can easily view a digital representation of your wine cellar (as a graph or a wine list) on your smartphone with the VINOTAG® app. The Vinotag application offers you the possibility of exporting all the data from your digital cellar into an Excel file. This file will give you the possibility of generating statistics and having an overview of your cellar.
Even if you are away, you can easily monitor the aging of your wines by opening the app from your smartphone or tablet, and remotely adjust the temperature inside your cellar. With this remote adjustment feature, you can adjust the temperature of your cellar in real time, with degree-by-degree precision.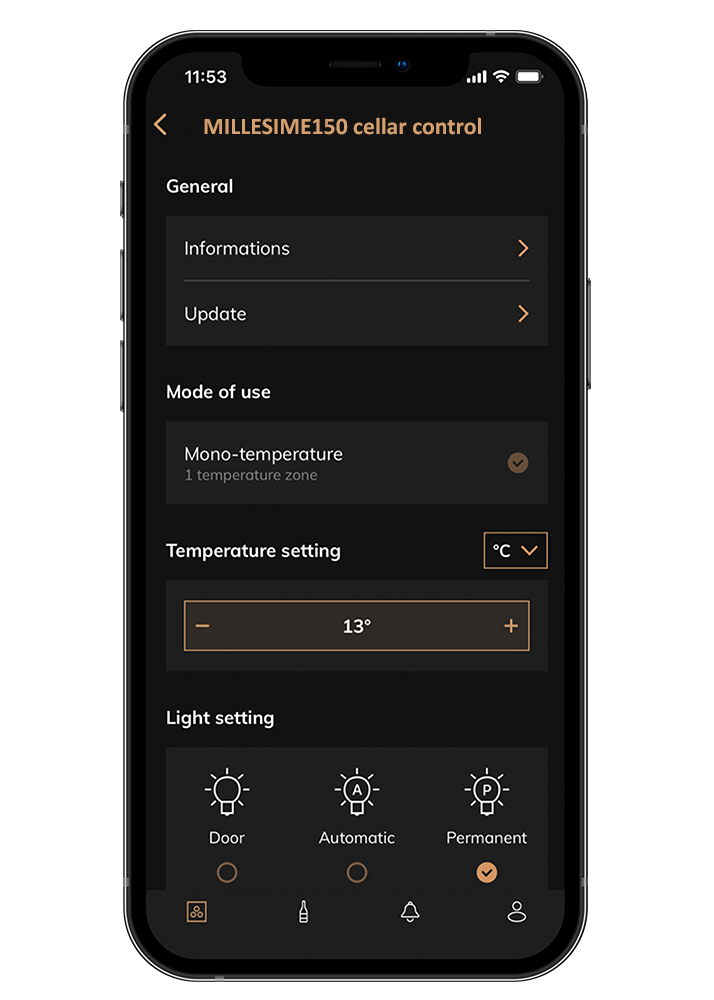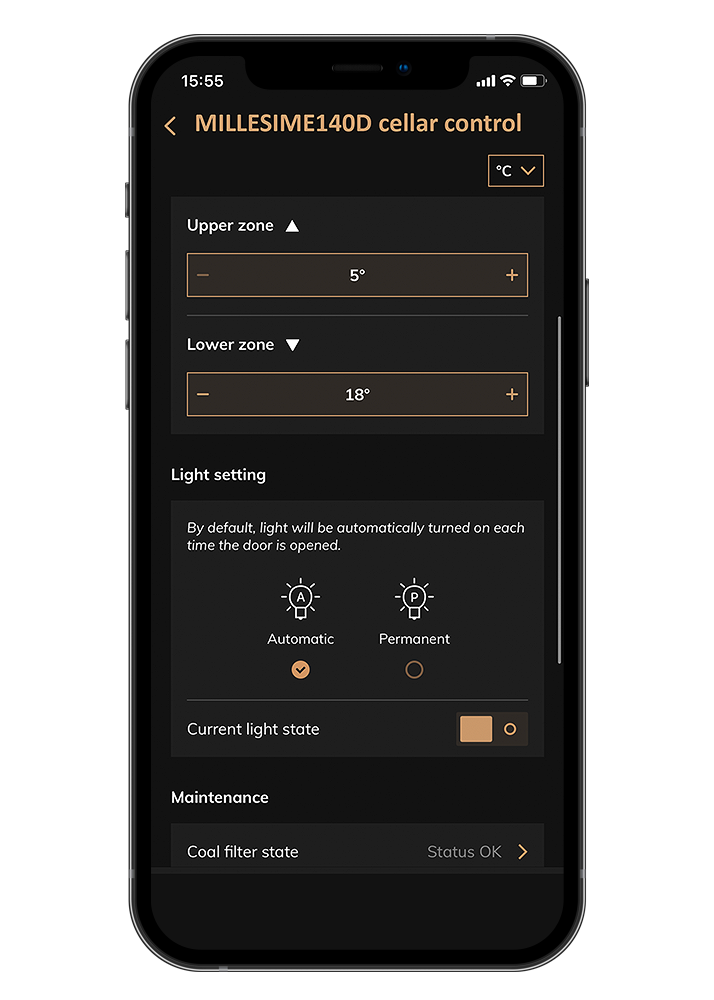 I adapt my cellar to my desires
and I control the lighting remotely
Your great wines are protected and magnificently displayed in a real showcase thanks to the lighting system integrated under the shelves of the Apogée range of aging cellars. This innovative system has been entirely designed to enhance your wines while respecting their aging. It diffuses a soft and homogeneous light in the whole wine cellar, creating a real wine showcase.
You can control the lighting of your wine cellar from the VINOTAG® app, by default, the light will be automatically turned on each time the door is opened. 2 lighting modes available:
1. Automatic Mode: The light will turn on when the door is opened and will automatically turn off after 15 minutes.
2. Permanent: The light only turns on or off when commanded by pressing the switch in your VINOTAG® app. This mode is ideal for turning your wine cellar into a real wine showcase during a meal or an evening out.
I keep my wines safe and I am alerted remotely
Wine is a living, delicate product that can be affected by its storage environment. You have carefully arranged your bottles in your cellar, eagerly awaiting the moment when they will reach their peak, already imagining their aromas and the pleasures of tasting.
What if your cellar is not working properly? If the external environment or your electrical installation were to disrupt the proper functioning of your cellar, what would happen to your grands crus?
The Millésime range has a temperature alarm function with remote control to ensure a stable and optimal environment for your precious wine collection. Thanks to this function, you are alerted on your smartphone or tablet in case of abnormal temperature or temperature variations in your cellar, whether you are at home, in the office or on vacation.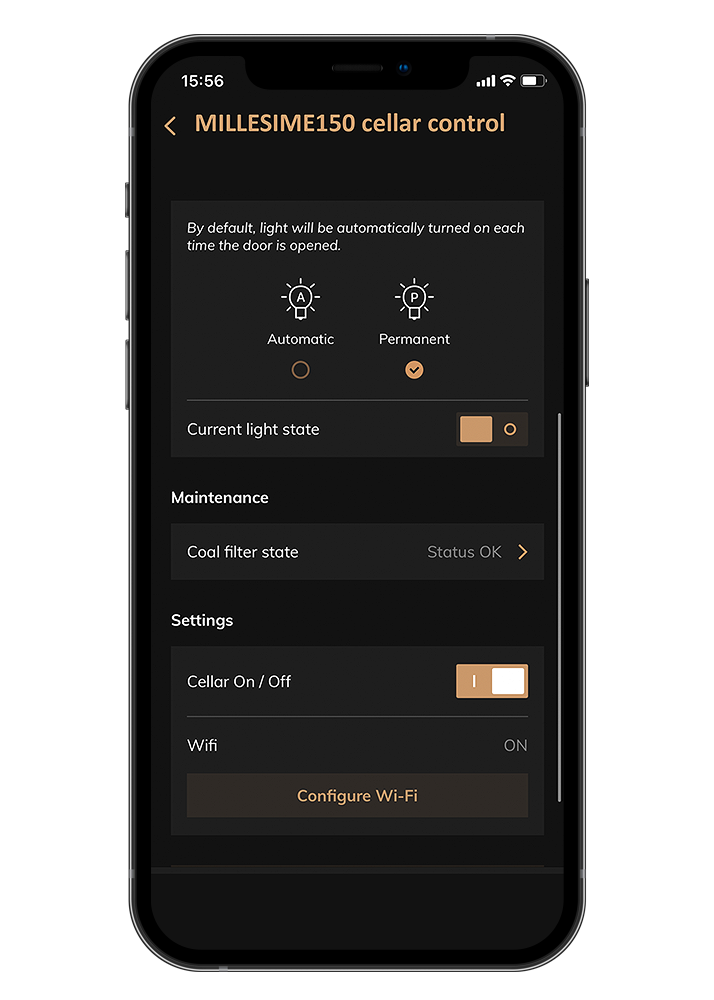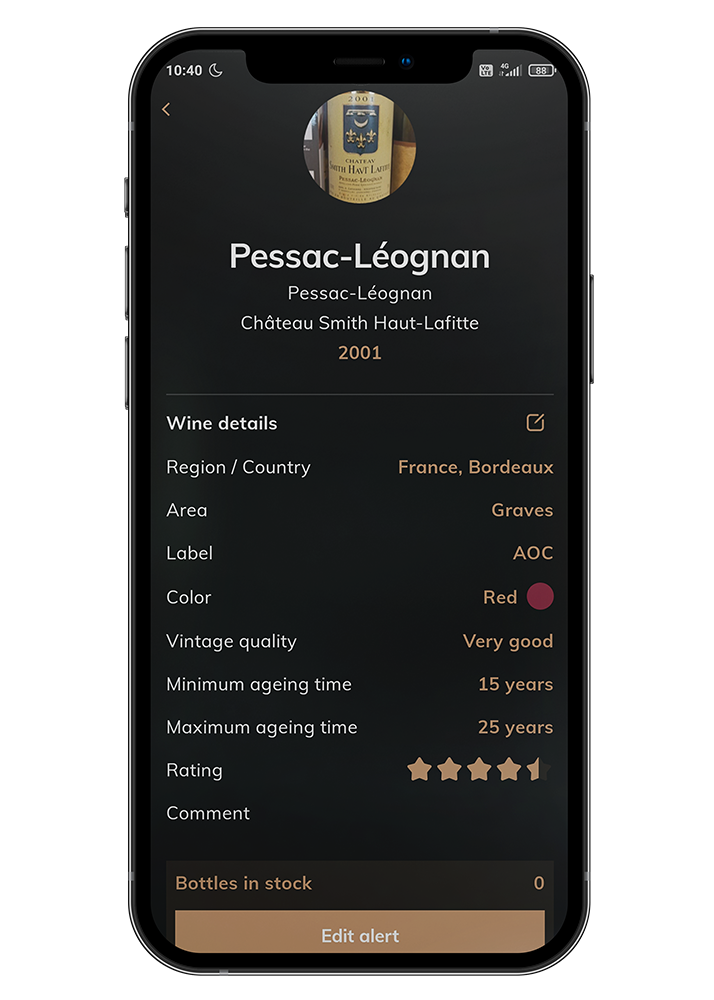 I save time to create my wine register
Adding bottles to your wine cellar is now a breeze thanks to the label recognition feature proposed by Vinotag in partnership with Vivino®. You don't have to waste time manually writing the wine cards of your bottles. You just have to take a picture of the label and Vinotag automatically extracts all the necessary information from the Vivino® database to create a pre-filled card. You can of course customize this form according to your tastes and preferences. This solution is simple, fast and efficient to help you manage your wine cellar easily.
Vinotag offers an assisted placement feature called ESommelier®, which recommends the ideal location for each bottle based on optimal aging conditions, to help you easily store your bottles in your cellar.
Vinotag uses data such as the available space in your cellar, aging time and type of wine to recommend the ideal location for a bottle, with a sticker indicating the recommended location on the digital view of your cellar.
I visualize my stocks in real time
It's the wine fair and you don't know what you have in stock? You receive at home and you don't know which bottle to uncork?
You can access your wine stocks using the Vinotag application. This application allows you to know how many bottles of each wine you have in your possession and their precise location in your cellar.
If you want to see the location of your bottles in your physical cellar, Vinotag offers a "show in my cellar" button that allows you to easily locate them.
In addition to consulting your stocks, you can also follow their evolution by programming alerts for your favorite wines. Vinotag informs you when your stock reaches the minimum level you have entered, thus avoiding you to run out of your favorite wines.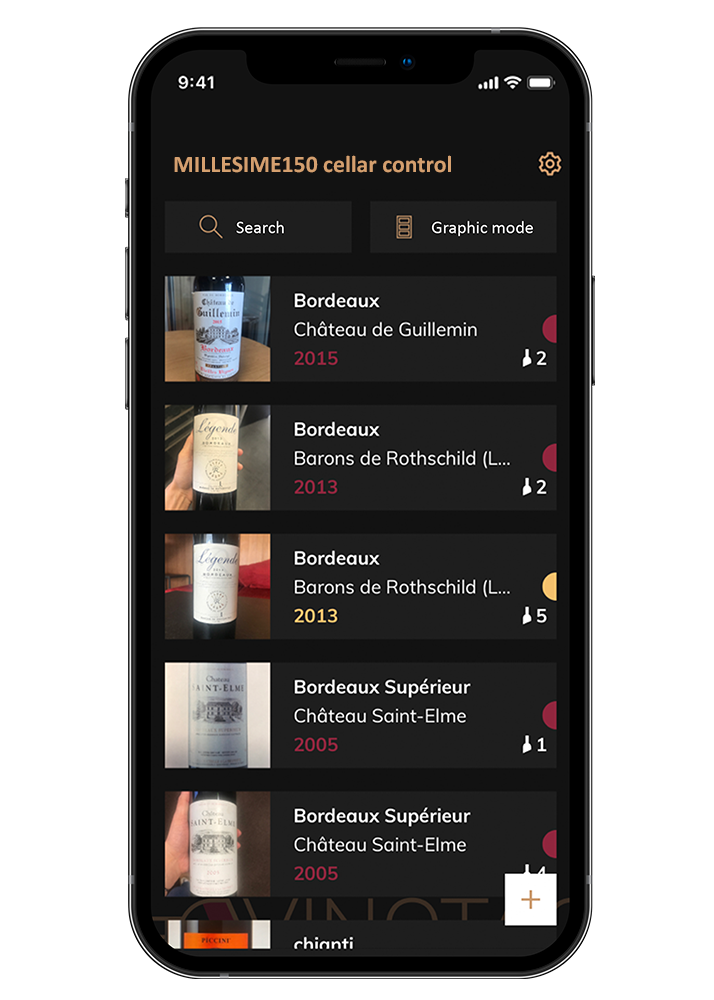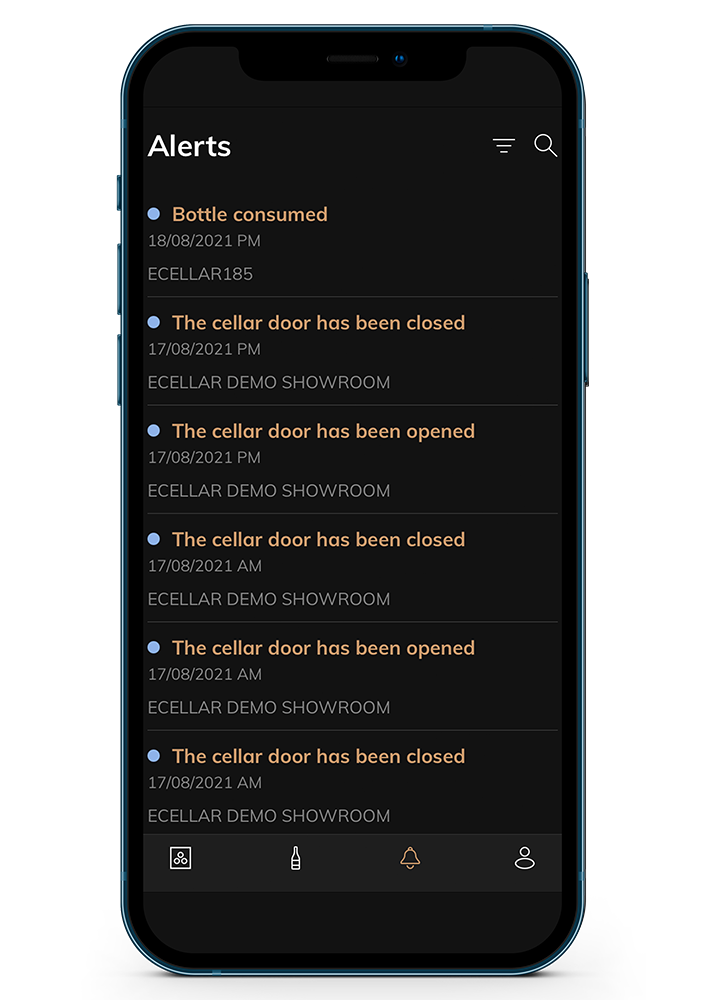 Je déguste mes vins à leur apogée
If you are passionate about wine aging, it can happen that you forget some bottles in your cellar or that you consume them too quickly. However, thanks to the Vinotag application, you can customize your wine records by adding a minimum and maximum aging period to be alerted when the wine reaches its peak and thus enjoy it at the best time.
Vinotag will inform you when your wine is at its peak. If you haven't tasted it yet, the application will remind you before the aromas dissipate with an end of peak date alert.
How do I find and remove a bottle from my connected cellar?
How to customize a wine card?
How to add a bottle in my wine cellar?
How to add a connected wine cellar?
How to share my wine cellar?
How to consult my wine library?
How to program my alerts?