CONTROL YOUR ECELLAR FROM THE VINOTAG APPLICATION
Benefit from a real time register thanks to the permanent communication between your ECELLAR and the Vinotag application.
CONNECTED & SMART CELLARS
I visualize the content of my ECELLAR from my smartphone
Visualize from your smartphone a digital representation of your ECELLAR (graphic representation or wine list). The list of your wines and their precise location are accessible and consultable anywhere!
The permanent communication between the Vinotag application and your ECELLAR allows you to keep an eye on the content in real time. Sensors on the racks detect the addition and removal of bottles, and ensure that your digital wine library is automatically updated.
The result? A reliable and accurate inventory of your wine cellar from your smartphone.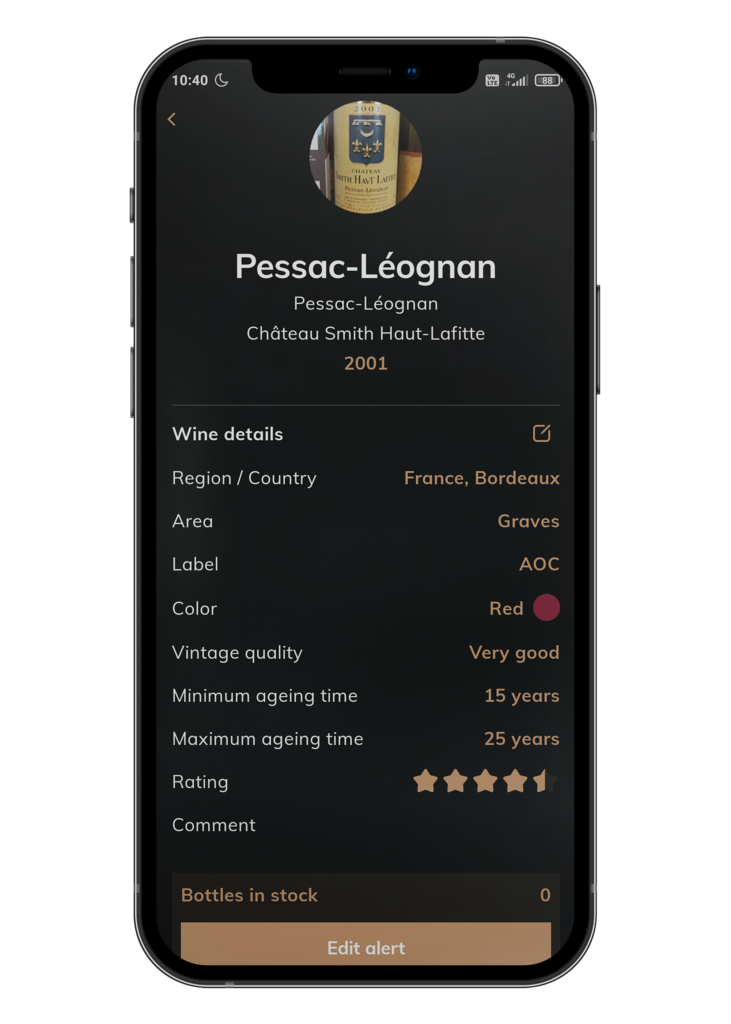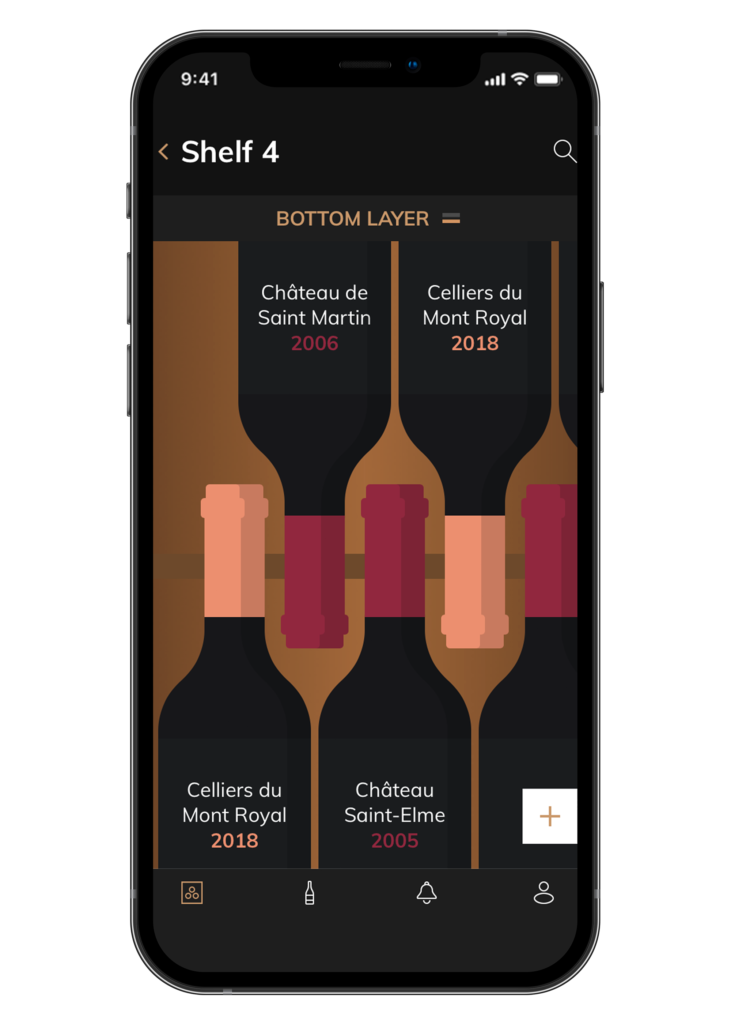 I save time to create my wine register
A real time saver for adding bottles to your cellar. No more need to write your wine cards yourself, the partnership between Vinotag and Vivino® allows you to access a pre-filled wine card with a simple photo of your bottle label. Vinotag extracts all the useful information from Vivino® to create a wine card. You can customize it according to your wishes.
One photo, Vinotag identifies the bottle in your hands and creates its wine card. Drop it where you want in your cellar, the cellar detects it and sends the information to Vinotag, which reports its exact location in your application for an updated record in real time.
A little lost? Vinotag helps you place your bottles with its ESommelier® feature. This assisted placement technology recommends the ideal available location for the bottle to age in your hands. Vinotag defines the ideal location according to the available space in your cellar, the aging time and the type of wine of the bottle to place. A light indicator lights up in your cellar, all you have to do is to place your bottle in it.
I visualize my stocks in real time
It's the wine fair and you don't know what you have in stock? You receive at home and you don't know which bottle to uncork?
Consult your stocks from the Vinotag application. You know for each wine the number of bottles in your possession and their precise location in your cellar.
If you want to see them in your physical cellar, Vinotag offers you a "show in my cellar" button. The application shows you where the bottle(s) you are looking for are located.
In addition to viewing, you can track your stock with stock alerts you can set on your favorite wines, so you never run out. Vinotag alerts you when the stock is at the minimum level indicated.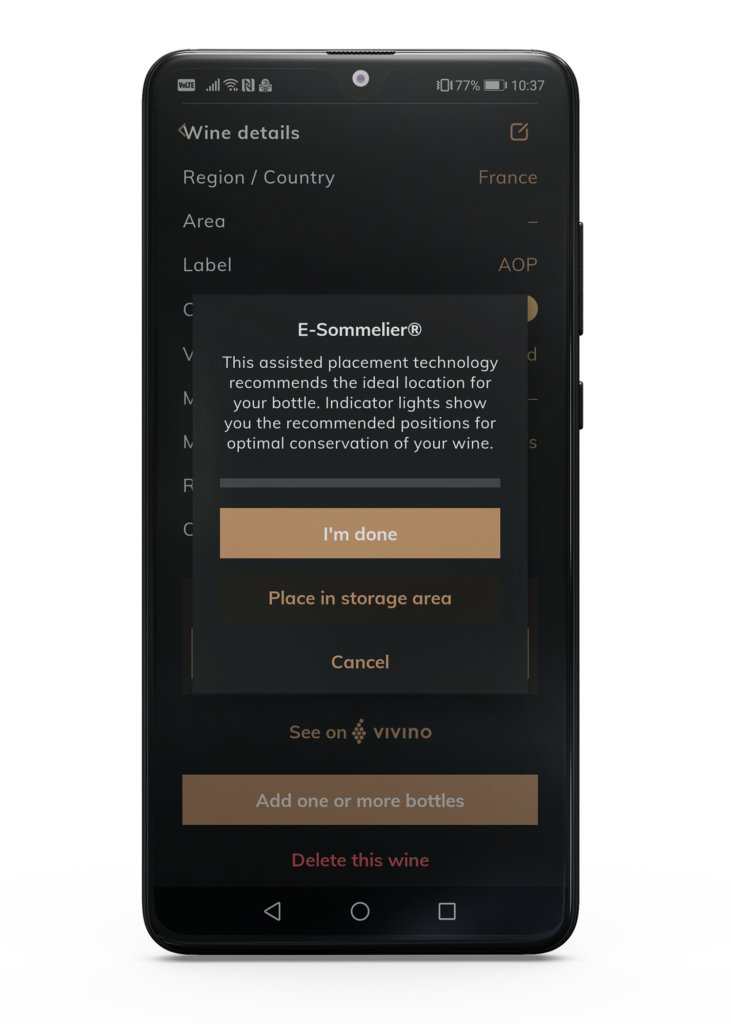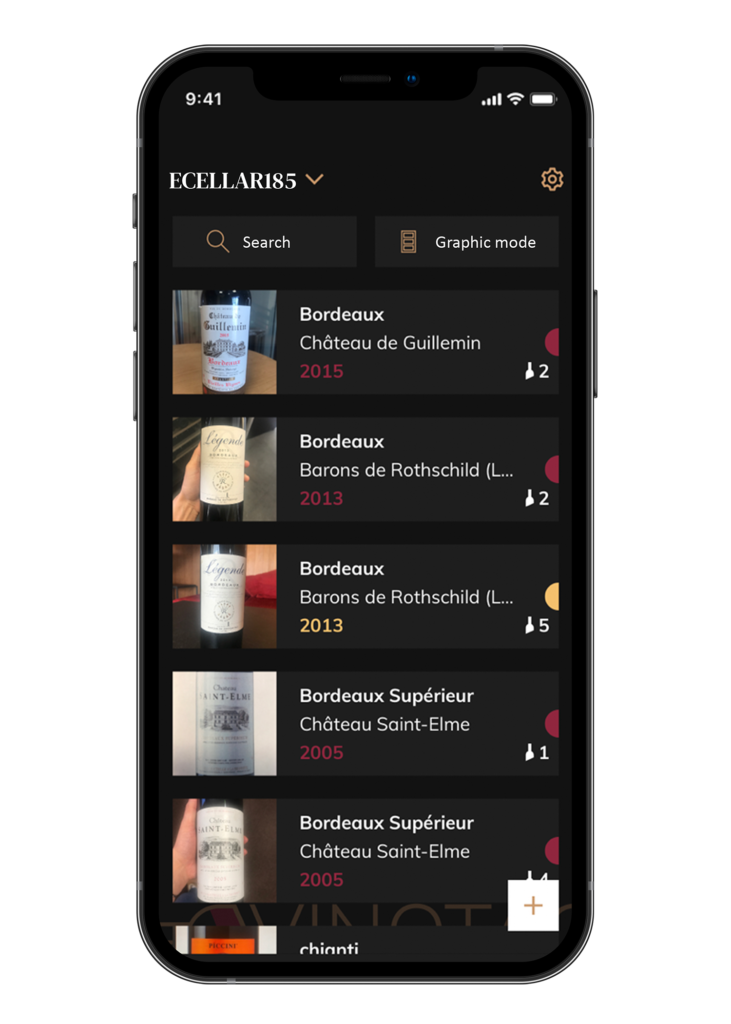 I taste my wines at their peak
You age your bottles with passion but sometimes you forget them in your cellar or on the contrary you drink them too quickly. Customize your wine files by adding a minimum and maximum ageing time to be alerted of their peak, and enjoy your wines at the right time.
Vinotag informs you as soon as your wine has reached its peak date. If you still haven't tasted it, Vinotag reminds you before it loses its aromas with a peak date alert.
How do I find and remove a bottle from my connected cellar?
How to customize a wine card?
How do I add a bottle to my connected cellar?
How to add a connected cellar?
How do I share my cellar?
How to consult my wine library?
How do I manage my alerts?
How to use the Esommelier?