CONTROL YOUR APOGEE WINE CELLAR FROM THE VINOTAG APP
Control your wine cellar remotely.
Connected to Wi-Fi, you can monitor your wines and adjust your cellar settings (temperature, lighting, alarms) anywhere, from your smartphone or tablet, and with precision.
CONNECTED CELLARS WITH REMOTE CONTROL
I visualize the contents of my cellar and I control the temperature remotely
Visualize from your smartphone a digital representation of your wine cellar (graphic representation or wine list).
You are away, you want to control the good ageing of your wines? Nothing could be easier, open the VINOTAG® application from your smartphone or tablet to monitor and adjust the temperature of your cellar remotely. The remote control allows you to modify in real time the temperature set to the nearest degree.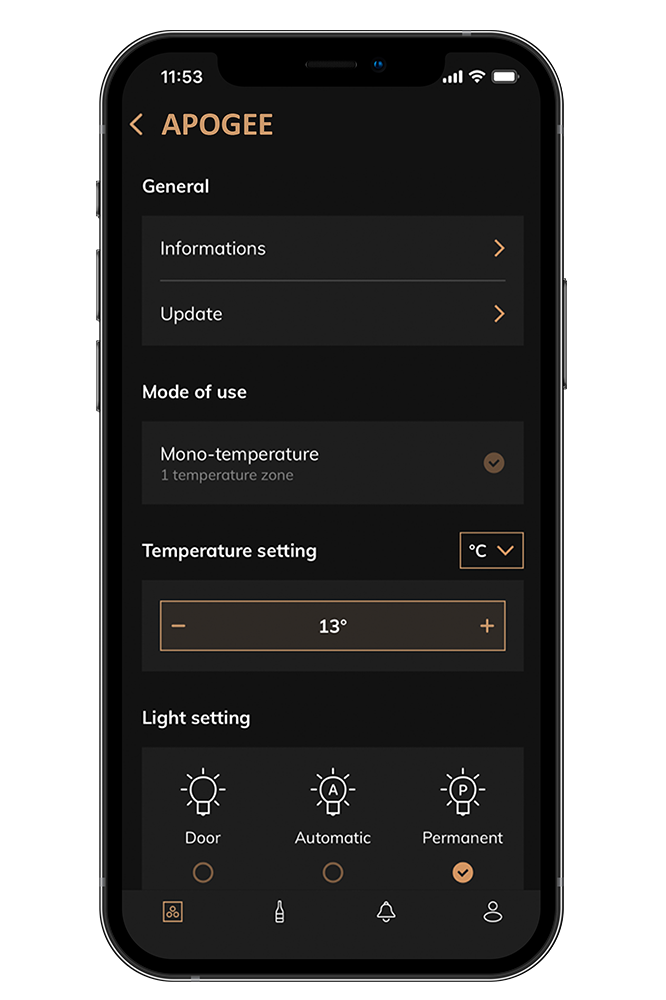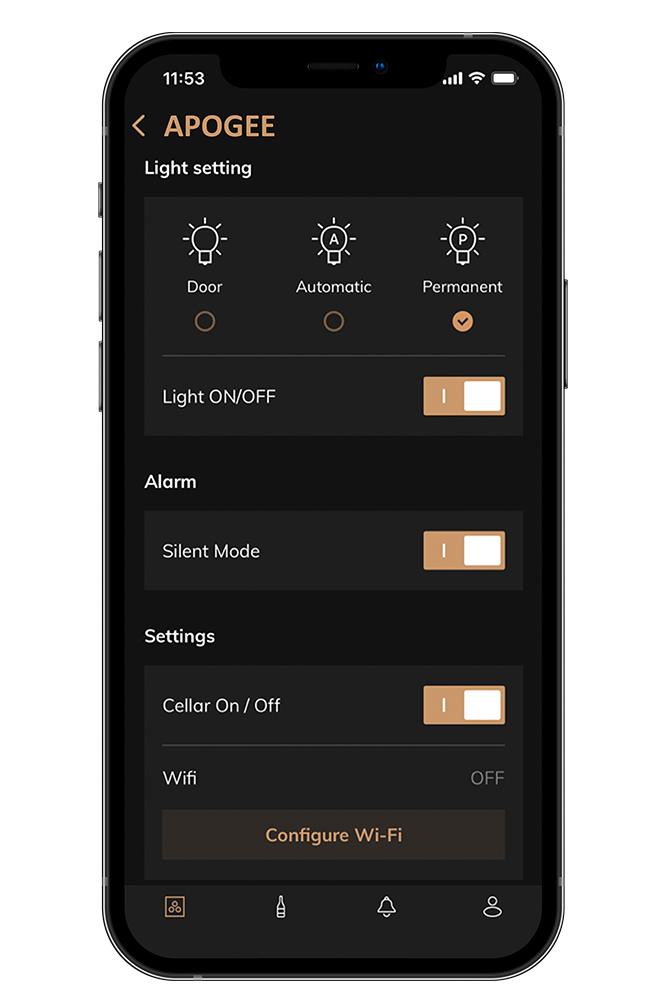 I adapt my cellar to my desires
and I control the lighting remotely
Protected and displayed in a real showcase, your great wines are elegantly illuminated thanks to an integrated lighting system under the shelves specific to the Apogée range of ageing cellars. Entirely designed to enhance your wines without disturbing their ageing, this innovative system diffuses a soft light throughout the wine cellar to create a real wine showcase.
Controllable from the VINOTAG® application, create the atmosphere of your choice thanks to the 3 available lighting modes:
Door mode: The lighting turns on and off automatically when the door is opened and closed. An ecological choice to optimize the energy consumption of your cellar.
Automatic mode:

The lighting turns on when the door is opened and turns off automatically after 15 minutes.

Permanent : The lighting only turns on or off when ordered using the switch in your VINOTAG® app. The ideal choice to transform your wine cellar during a meal or for the time of an evening into a real wine showcase.
I keep my wines safe and I am alerted remotely
A sensitive and living product, wine is impacted by its conservation environment. Preciously placed in your cellar, you wait impatiently and benevolently for its peak, imagining its aromas and an unforgettable tasting moment.
But what if your cellar shut down? If the outside environment, your electrical installation or any other element disrupted its proper functioning, what would happen to your great wines?
Equipped with a temperature alarm function with remote control, the Apogée range ensures a stable and ideal environment for your precious collection. Notified on your smartphone or tablet, you are aware of the temperature and abnormal temperature movements inside your cellar, whether you are at home, in the office or on vacation!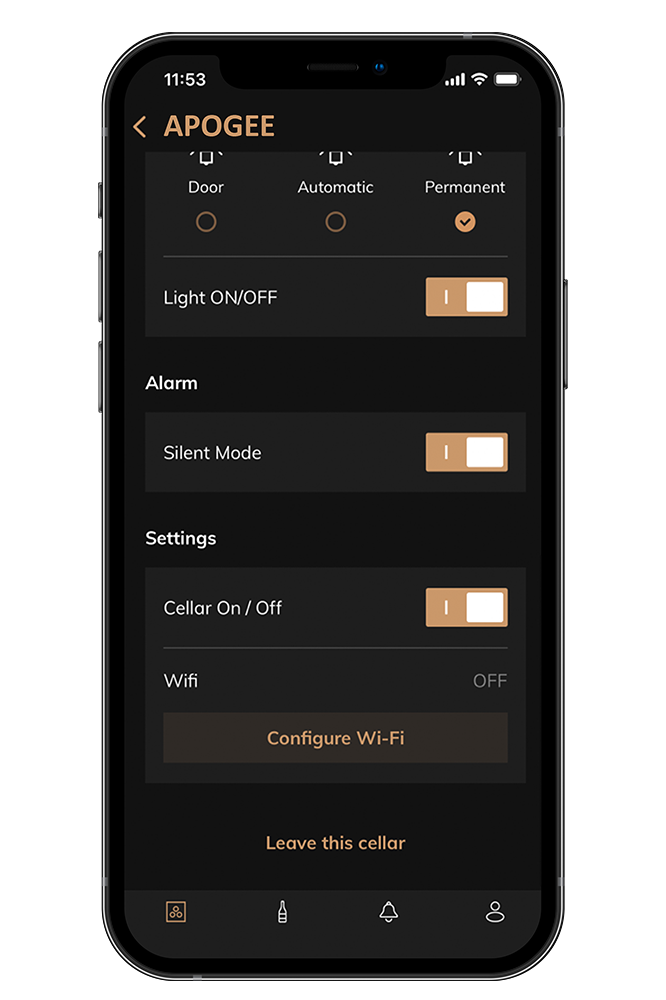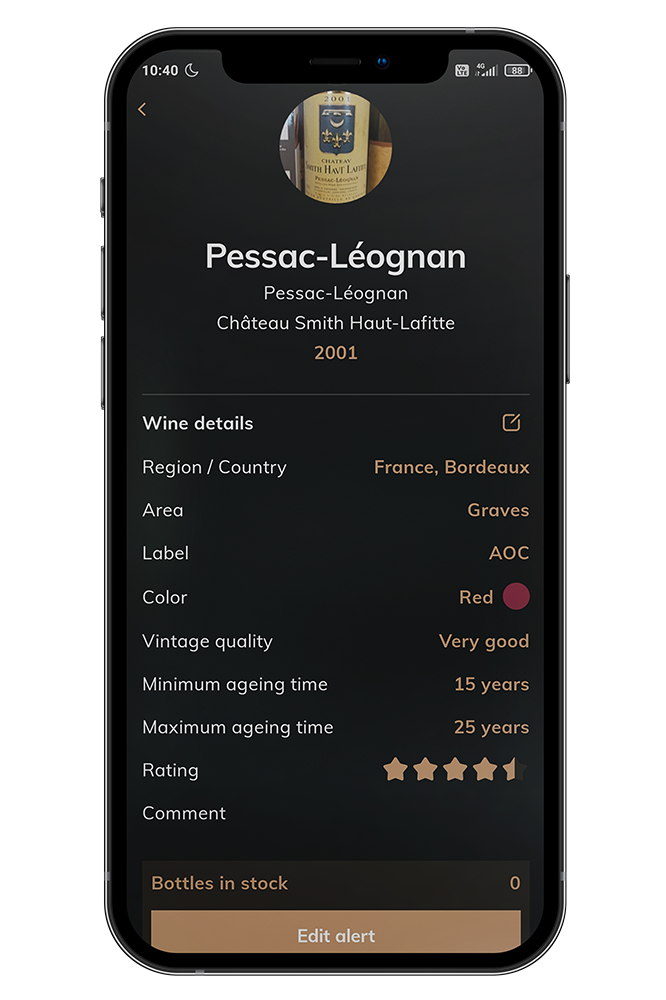 I save time to create my wine register
A real time saver for adding bottles to your cellar. No more need to write your wine cards yourself, the partnership between Vinotag and Vivino® allows you to access a pre-filled wine card with a simple photo of your bottle label. Vinotag extracts all the useful information from Vivino® to create a wine card. You can customize it and modify it according to your wishes.
A bit lost? Vinotag helps you to place your bottles with its ESommelier® function. This assisted placement technology recommends you the available and ideal place to age the bottle in your hands.
Vinotag defines the ideal location according to the available space in your cellar, the ageing time and the type of wine to place. A sticker on the digital view of your cellar shows you the recommended location, all you have to do is to place your bottle there.
I visualize my stocks in real time
It's the wine fair and you don't know what you have in stock? You receive at home and you don't know which bottle to uncork?
Consult your stocks from the Vinotag application. You know for each wine the number of bottles in your possession and their precise location in your cellar.
If you want to see them in your physical cellar, Vinotag offers you a "show in my cellar" button. The application shows you where the bottle(s) you are looking for are located.
In addition to viewing, you can track your stock with stock alerts that you can set on your favorite wines so you never run out. Vinotag alerts you when the stock is at the minimum level indicated.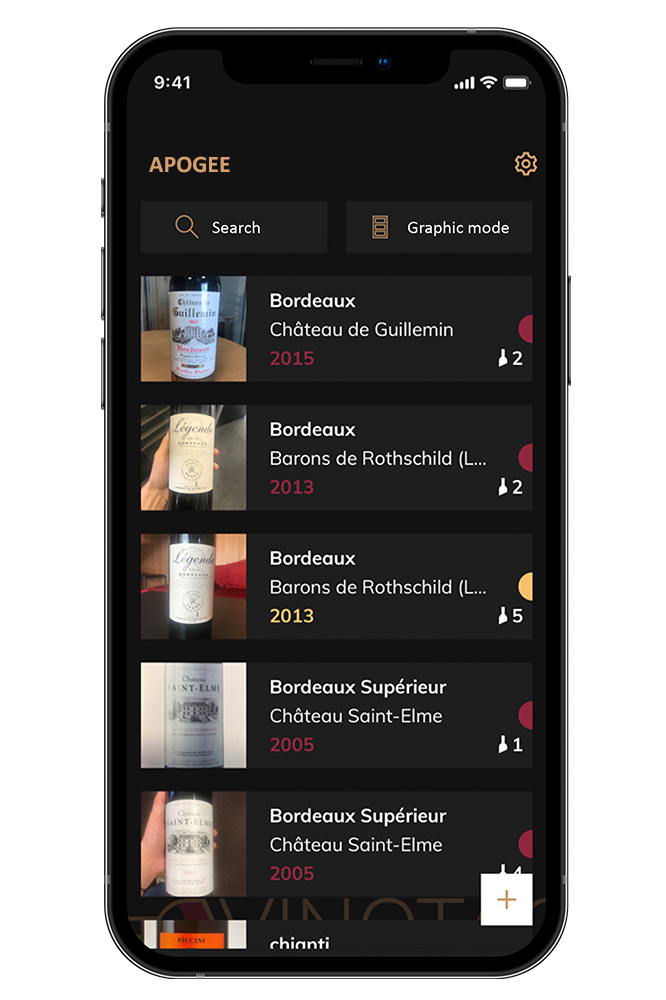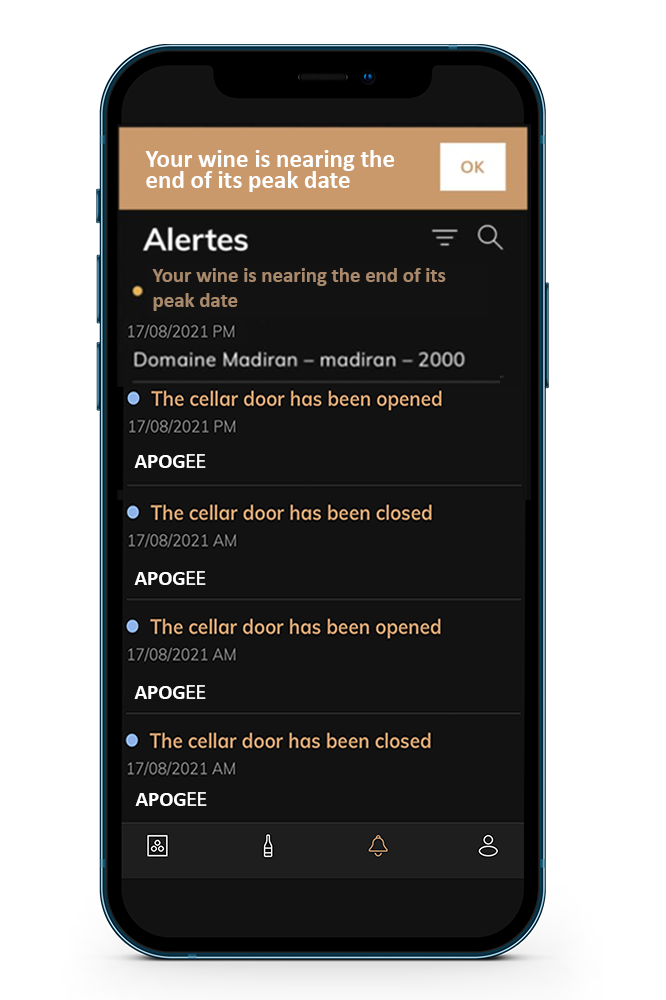 I taste my wines at their peak
You age your bottles with passion but sometimes you forget them in your cellar or on the contrary you drink them too quickly. Customize your wine files by adding a minimum and maximum aging time to be alerted of their peak and enjoy your wines at the right time.
Vinotag informs you as soon as your wine has reached its peak date. If you still haven't tasted it, Vinotag reminds you before it loses its aromas with a peak date alert.
How do I find and remove a bottle from my connected cellar?
How to customize a wine card?
Comment personnaliser une fiche vin ?
How to add a bottle in my wine cellar?
How to add a connected wine cellar?
How to share my wine cellar?
How to consult my wine library?
How to program my alerts?